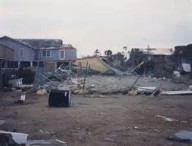 Do You Remember These Hurricanes?
Hazel
Oct. 5 - 18, 1954
Hugo
Sept. 9 – 25, 1989
Floyd
Sept. 7 - 19, 1999
Charlie
Aug. 9 – 15, 2004


Planning for a Disaster
The Little River Chamber of Commerce is part of the Myrtle Beach Area Recovery Council whose mission is to restore in a timely manner the area's tourism industry after a man-made or natural disaster. The Area Recovery Council was formed after Hurricane Hugo in 1989. Founded as the Hugo Economic Recovery Committee and later renamed ARC. After Hugo, the council through private donations raised $1.6 million dollars to positively advertise and promote to the public that the Grand Strand had survived and did not sustain the damage as widely reported.

It takes hard work to offset the affects of a disaster such as a Hurricane. Continuity of your business operation is key. Do you have a plan? What will you need? What is your supply chain? What are your processes and procedures to deal with no electricity or employees that can't get to work? These are just some of the questions you need to think about when disaster strikes.

There are models and templates available through free resources to help you create your plan, not only for business, but for home safety as well. They help you identify key things your business needs and assists you with identifying hazards that you may not have considered. 70%-80% of businesses never re-open after a hurricane or other disaster because they have not don this planning. Be one of the 20% that survives.

Including business continuity planning in your business plan can assist you with business loans in addition to emergency planning. Commercial lenders will see your forsight and comprehensive vision as a complete package and worth their risk. Planning guarantees the future.

For more information and to help create your plan go to www.disastersafety.org

Emergency Alert System Notification (EAS)
FM Radio Stations:

WYAV 104.1 FM
WLFF 106.5 FM

ETV Radio Network:
Television Stations:
Useful Phone Numbers
Horry County Emergency Management at (843) 915-5150.
If you have storm-related questions, you can call 1-866-246-0133.
For information about state-maintained road conditions, call 1-855-467-2368 between the hours of 8 a.m. and 7 p.m.
Public Information Phone System (PIPS) - Only activated when needed. Spanish interpreters available. 1-800-246-0133
Citizens who need to report any road and drainage issues, please call the Horry County Road & Drainage Hotline at (843) 381-8000.
FEMA 800-621-3362
Tips for calling

Texting will often go through when calls won't, try texting.
Because of how calls are routed from different area codes, a cell phone with an out of town area code will often work when other phones won't.
Using Telephone Lines Efficiently After a Disaster - When you pick up the receiver, there's no dial tone. You will immediately think your phone is dead. Now what will you do?
Subscribe for Updates
Code Red Alerts - be notified by your local emergency response team in the event of emergency situations or critical community alerts. Examples include: evacuation notices, bio-terrorism alerts, boil water notices, and missing child reports.
Helpful Websites
Horry County Emergency Management - Comprehensive Emergency Management Plan, re-entry directions, and information for a variety of natural disasters, including flooding. Leading local organization during a crisis.
Federal Emergency Management Agency (FEMA) - Prepare and Be Informed about a variety of disasters, plus resources for during and after disasters
Ready.Gov: Prepare. Plan. Stay Informed.
DisasterSafety.org: Insurance Institue for Business & Home Safety
SCDOT: State road information
MBACoC - After a Business Interruption
US Chamber of Commerce
US Economic Development Administration and US Department of Housing and Urban Development have funds to be used for establishing local, post-disaster revolving loan programs. A list of federal agencies and their economic development-related programs provides more information.
IRS - Offers tax relief to businesses affected by federally declared disasters
DisasterAssistance.gov - Disaster Assistance Improvement Program's mission is to provide disaster survivors with information, support, services and a mechanism to access and apply for disaster assistance through collaborative, data-sharing efforts between federal, tribal, state, local and private sector partners.
RestoreYourEconomy.org - Provides resources and best practice information for public and private stakeholders who are seeking to rebuild their local economies after an economic disruption, be it a natural disaster or man-made
Solid Waste Removal and Recycling Services in Horry County - List of waste hauler/recycler services. If you live or work on a county maintained road, the county will come and pick up your debris from damage done by the disaster. It needs to be sorted by type of debris (glass in one can, wood in one pile, appliances in another, etc.) and brought to the curb.
Contractor Fraud Checklist - Contractor fraud often increases after natural disasters.
Please visit our Business Directory to find a local clean-up and restoration service.